The Four Questions You Must Ask Yourself to Ignite Your Holy Fool
Many of you are asking for the four questions from our Calling All Voices event. Yes! When you take the time to thoughtfully consider your answers, you're on track to stewarding your strand in the web of life.
The new story we are creating together must be for the good of all life. The fourth principle of my book Transformational Speaking states, "You can't figure it all out, you can't make anything happen, and you can't make anyone do anything. Every one of us holds a different strand of the web of life, and we each must heed our own call."
Today I am asking you to heed your own call. With much of life as we've known it in breakdown and chaos, it is easy to become numb, overwhelmed, and continue our old conversations about all that is not working. Yet if each of us claims the strand of the web that is ours to tend and to mend, and ask others to do the same, we can individually and collectively begin a new conversation and live our way into the new story that is calling for our greatness.
We are all here at this time for a reason that is written deep within our souls and it is time to find and live our true callings. The questions we are asking in our national and global dialogue keep us stuck in an old paradigm of right/wrong, win/lose. The issues are complex and while we flail around looking for answers, I propose new questions. Here are four to support you in claiming your purpose and activating a new story:
What delights you and brings you alive?
When you experience the vibration of joy in your very being, you're on track to identifying your place of greatest contribution as well as attracting those who will join you. The poet David Whyte in his exquisite poem Sweet Darkness reminds us: "You must remember one thing. The world was made to be free in. Give up all other worlds except the one to which you belong. Anything or anyone that does not bring you alive is too small for you."
What breaks your heart?
Rumi said, "Break my heart, oh break it again, so I can love even more again." What pain are you avoiding? We must be willing to feel our heartbreak and pain. Each time we avoid our descent into the well of grief, we lose a part of our voice. By allowing ourselves the healing of this natural process, our hearts can be broken open and our purpose revealed.
What does healing look like?
The pain will push us until the vision pulls. In Proverbs we are told, "When there is no vision, the people perish." To change the world, it is time to tell a better story. What is the inspiring new story you will tell to show us the way to a vision of what is possible?
What one life-affirming action will you do beautifully and consistently, with love?
Rather than being hypnotized into a wait-and-see stupor, what will you commit to doing right now that supports the healing you envision? Your calling may come, for example, from your own hero's journey with illness. Perhaps your way of contributing is through the courage you demonstrate to others as you live with uncertainty. Vote with your dollars and what you choose to support. Connect with those who appear different from you and find out how much you truly share. Speak up when you see injustice. Get politically active around the causes that call to your heart. Choose the organization you will support with money and time. Commit to showing up for what is yours to do to create the world you know is possible!
Whatever act you choose to do consistently and beautifully, with love, I challenge you to bring to the forefront the question asked by the Iroquois grandmothers. Does this support life? These revered elders viewed life as the entire interconnected web, and their decisions were based on what would serve seven future generations.
Calling All Voices! Let yours be heard as you cherish the strand in the web of life that is held in trust for you.
A Special Facebook Group for Calling All Voices
Have you identified your one life-affirming action you will take consistently with love?
Please do! It's a big step to realizing the new story you hold in your Holy Fool heart!  We've set up a facebook page so you can post what you're doing to claim responsibility for your strand in the web of life.
The Honourable Zoe Tryon could have married a "lovely" Earl or Lord and lived in a castle.  But the Amazon called to her instead, inspiring her great passion to be a voice for the voiceless.  She has fallen in love with a people whose ancestral lands are being devastated by oil drilling, whose children are dying because their only source of water is poisoned.
Zoe in Ecuador -"Big Oil's Dirty Secret"
Here is some sage counsel from last year's featured Holy Fools.
Chris Jordan:  When someone says, "Be more practical," they are scared for you.  You don't really overcome fear, but you can develop a relationship with it and learn to contain it. The bigger fear for me was not living my own life.
Atina Diffley.  I knew I was the person to take on the Koch brothers to stop a pipeline on our organic farm. To keep going, I kept giving myself little dares. Taking the leap is a lot like planting a field. You keep working and never know if you'll get a crop. I call that "engaged optimism."
Karen Brody:  Every day I wake up with a huge YES! Follow your yesses. It is hard? Absolutely.  It is worth it?  Absolutely.
Sam Ko, MD.  I get a physical response in my body when my intuition speaks. In the fast pace of the ER, I have to make space for peace and solitude. My mind and heart need to be quiet to really tune in and listen.
Charles McAlpine:  When you choose to follow the urge of your Holy Fool, you initiate on an adventure. Magic and synchronicity point the way.  You create your own rulebook.  I could never go back because I'm having so much fun!
Want to see them in action?  Here's the link to last year's Holy Fool's Day event!
You can sign up for this year's event here.
_________________________________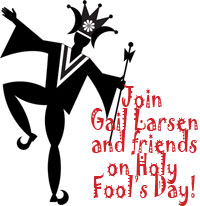 What do you know about being a Holy Fool?  What spark of madness inspires you?  Please tell us on the blog, and let's keep this movement going!  We can send you graphics for your Facebook posts – just ask!
Oh, go ahead and tweet!  Tweet: Get your spark of madness on! Join #Gail Larsen for her #Holy Fools Day Extravaganza on April !! http://ctt.ec/u81SP+
With delight in your magic!
Gail
The early months of this year were full with the launch of Transformational Speaking–Online!  So my article today is about one of the challenges we address throughout the course: the fear of speaking. Be sure to continue reading as there is a short video to help you center yourself on the spot!
Sometimes we stop ourselves from speaking our truth because fear rises up and shuts us down. You've heard it said that public speaking is our number one fear. After experiencing this myself for more than half my life, I was pleased to learn that Buddhism lists five top human fears, and "fear of speaking in front of a public assembly" is only the fifth.
As speakers and leaders, loving people into their magnificence is one of the biggest gifts we can bring to those we serve. So when I work with a client on a new talk, I send them off with the words of Eleanor Roosevelt:  "The giving of love is an education in itself."
When taking the stage, it's so easy to be absorbed in what we're about to say, or in centering ourselves to alleviate fear, we forget to focus on those who will be listening to us. Continue reading →
"Wherever you are is called here, and you must treat it as a powerful stranger . . ."
The above line, from the poem Lost by David Waggoner, touches me each time I hear it. So often where we actually are in our lives represents the story we don't want others to know. It may reveal that we're not on top of our game where our culture would have us believe we are supposed to be. It may not show us in the best light when we want to impress those around us. It may expose a broken heart to even more vulnerability. So we stuff the truth and pretend it isn't real or important, forgetting we're all members of the Scar Clan. Continue reading →
April 1 is the day to find your voice, speak your truth, and shake things up.  Forget the pranks and silly antics of April Fool's Day. Become a Holy Fool!
Each year I remind you that this is your day to speak out.  Here is last year's post to inspire ideas for the outer expression of your inner Holy Fool.
Comparative mythologist Joseph Campbell talked about the archetype of the Holy Fool. The Fool is the most dangerous person on earth, Campbell explained, the most threatening to all hierarchical institutions.  He has no concern for naysayers, and no one has power over him (or her). She is not limited, not stoppable, nor controllable. She knows what she has to do and is doing it, no matter what. Continue reading →
"You're only given a little spark of madness. You mustn't lose it." – Robin Williams
Lately I've been applying the above words from one of my favorite philosophers, Robin Williams, to the art of transformational speaking. Most of us tame our madness to fit into what others expect and never use our inherent spark to become the wildly unforgettable speakers and change artists that are needed in these times of shocking transformation.
I suggest you no longer try to lose or suppress your spark of madness and instead give it a voice on April 1, which I have renamed Holy Fool's Day. This festive and often annoying holiday suggests we play tricks on others with a jovial spirit and once we've duped them to yell with delight, "April Fools!"
Yet comparative mythologist Joseph Campbell talked about the archetype of another kind of fool: the Holy Fool. The Fool is the most dangerous person on earth, Continue reading →
When teaching at Omega Institute last summer, I received a poignant reminder of the power of expressing our emotions as we speak. A woman in my class moved us all with her heartbreaking and heart-opening story. First we learned of the medical error that led to her loss of the child she was carrying, and then she shared her journey of healing that led her to Rwanda and a profound experience of forgiveness.
When Tina finished her story, we were in a place that was beyond words. Those are the rare moments where as speakers we must be willing to inhabit the stillness and allow ourselves to feel rather than fill the space with words. She stood in silence. As her coach, I did the same.
How often we step in to try to comment on the indescribable. Continue reading →
Foretellings from many cultures point to 2012 as the time when we pass from an old world and way of being to a new time on planet earth.  While we can recognize the economic, political and cultural turmoil around us as fundamental to this dynamic shift, and ultimately a good thing, it's easy to shut down internally to try to ride out the storm. We want change, in fact for those of you reading this, you are likely one of those working for change. And now that it is happening in so many of the fundamental systems on which we have built our way of life, there's a tendency to say, "Wait a minute. Not so fast! I haven't learned how to keep up!"
It is no longer possible to stabilize our lives by managing time. Consider how we speak of time. Make time. Spend time. Save time. Invest time. And, of course, Time is money. The alternative is to learn to feel time and to manage our energy. When I say "feel time" I'm speaking of recognizing and respecting the internal currents that for each of us constitute a rhythm that allows us to operate from our wisdom and knowing, even in the midst of crisis and volatility and outer demands. It changes at different stages of our lives and, when we ignore the needs of our bodies, we risk showing up without a full heart. Continue reading →